I have tried many different methods of making tomato sauce. I started umpteen years ago with
a mortar and pestle. What a pain in the ass that was. Then I moved on to a tomato mill.
That turned out to be just as bad. What I have now is a very simple and effective method.
Step 1:
Take a seven gallon bucket and line it with a pillowcase that has a zipper. Fill the bucket (
I know it's an old pool supply bucket but it has been thoroughly sterilized) with tomatoes.
Before you throw the tomato pieces into the bucket, give them a squeeze over a scrap bowl.
This will get out the majority of seeds and a lot of the juice right there.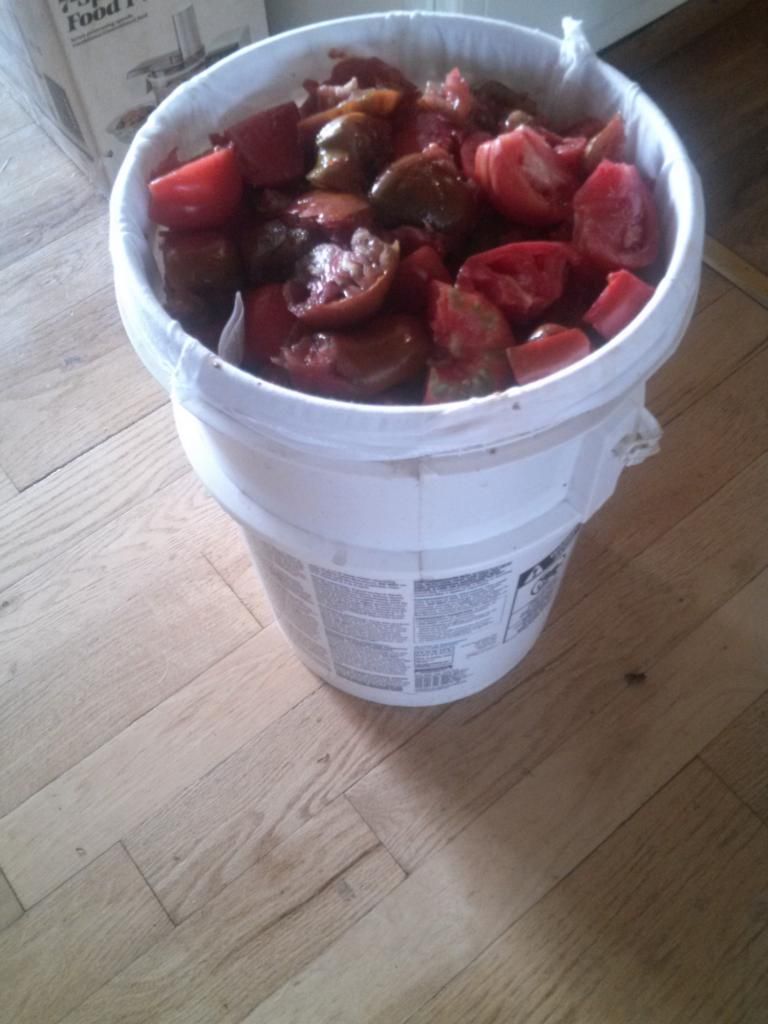 Step 2:
Zip the bucket up and put something underneath it to allow some room for tomatoes
to "drip out" overnight. I didn't have the tomatoes smashed down in there very well when
taking the picture. Make sure they drip where you want them to, the bottom of the bucket !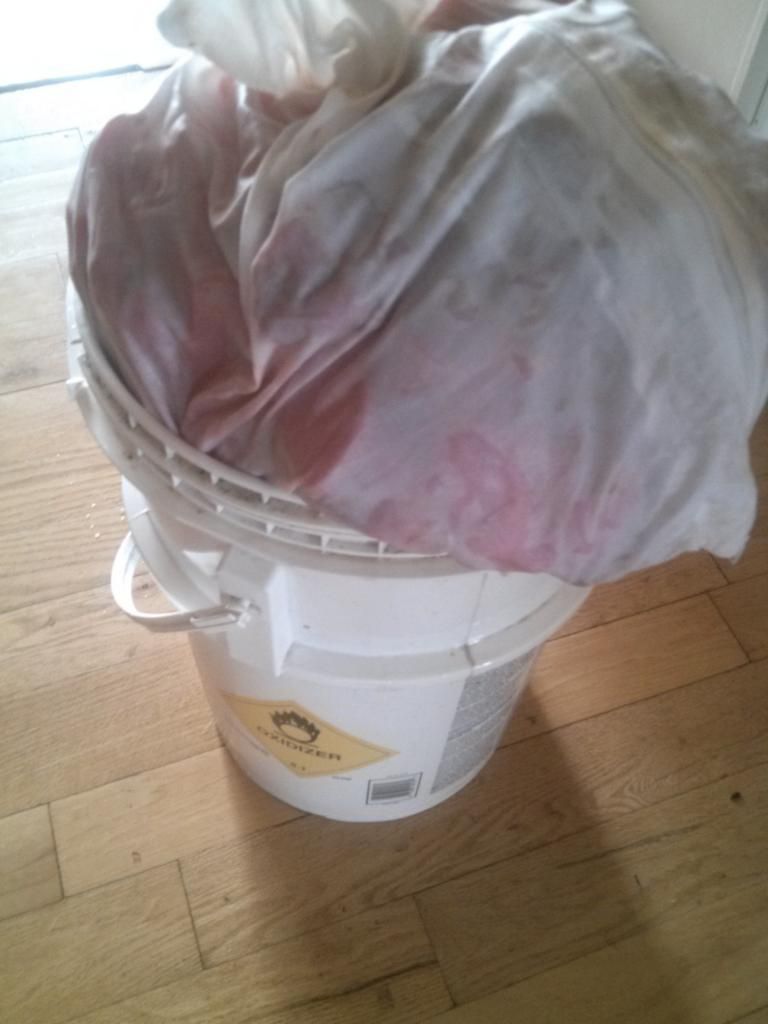 Step 3:
Once they've dripped out good, it's time to grind them down. I use an old Sears soemthing
or another. You'd have to spend a hundred bucks or more these days to get the type of
horsepower this old thing has.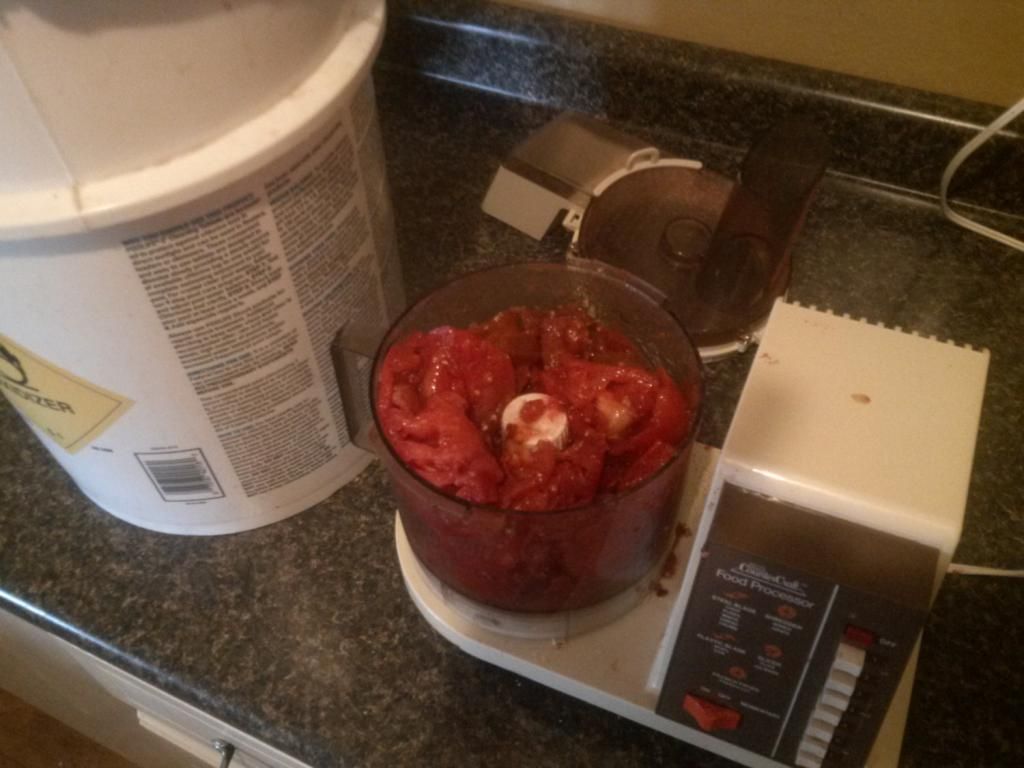 Step 4:
Into the stock pot it goes, it'll take a few repetitions but eventually it fills up to about ¾ full.
Because most of the moisture has dripped out of the tomatoes, the sauce really doesn't
require much cooking time. I'll let it go a half hour or so at a slight boil to get out anything in
there that might kill an old boy
Step 5:
Time to fill up the jars. I spared you guys the process of sterilizing the jars. But I'll dunk
each one of them down into the Boiling Water Bath for a minute or two. Put a little vinegar in
the water to keep the jars nice and clear Once they come
out of the bath, put a teaspoon of canning salt and a teaspoon
of lemon juice in each jar. Now they're ready to be filled.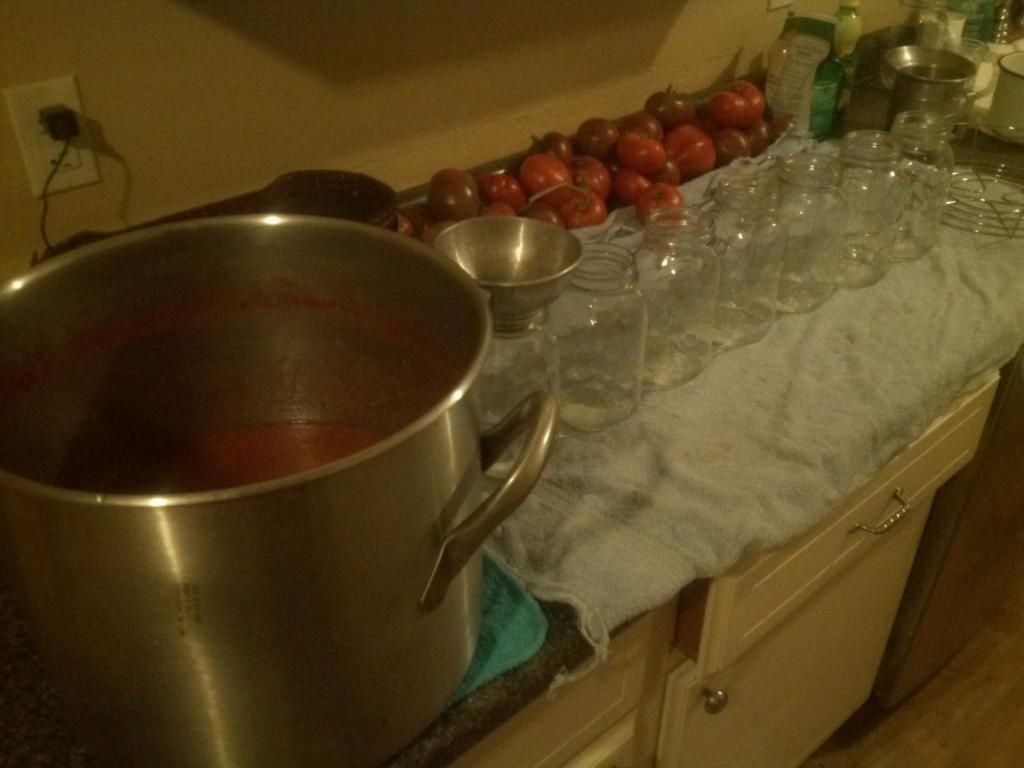 Step 6:
Almost done, put the lids on and stick them down in the boiling water bath for 40 minutes
Step 7:
Take em out, and listen for them to seal. Most will happen nearly immediately, others may
take an hour or more. That seven gallon bucket of tomatoes will yield 14 quarts on the money.